I don't hate anybody or any things really (rarely), but this, woah he's a real b*tch or see you next Tuesday. I hate it.
Anxiety is absolute bullsh*t.
It is physically draining and can hit you like a tonne of bricks or can smash into you quicker than dropping your iphone on your face lying down. It affects everyone differently too. Of course being the loving bugger it is, it doesn't discriminate. EVERYONE and ANYONE can have anxiety, or be anxious at some stage. Seriously, everyone. The only difference is it is more than often not spoken about. You can be the happiest and most outgoing person in the room but the split-second anxiety rears its ugly head you can be sent into a downward spiral.
Let me break it down for you in more layman's terms. It's like when you wake up and you're really hungover or groggy and you go down to Coles looking less than fresh and it is GUARANTEED that you are going to run into someone looking like a hot mess. You. Cannot. Avoid. It. Then boom, of course, it happens. You know it'll happen even when you are on a glowing post-orgasm high, you know it'll rear it's big ol' ugly head whenever and wherever it feels like it.
So here's lil old me minding my own business, attempting as best as I can to keep on top of things – obviously failing miserably but still singing Yonce's ballad 'Survivor'. Yes, I know that was Destiny's Child, but I can't think of the others' names; so therefore invalid? Then NEKMINIT it appears. It constantly maintains eye contact with you and tries to hold you in conversation when all you want to do is retreat to your bed (with your McDonald's) and hide from the world. It isn't to be confused with being similar to when a woman gets her aunty flow once a month (lucky bastards), there isn't a set date or time or even an event that triggers it. It can legit be the smallest most insignificant thing that can trigger it. So that's been me for the last three months on an anxiety bender. Hasn't been as fun as any other bender I've been on before but boy oh boy has the crashing and burning been just as horrific.
The worse thing is it doesn't discriminate – age, gender, profession, religion – you name it, you can be affected. I have friends, good friends, almost other limbs that have anxiety issues yet until they told me, I had NO idea.  I know of children who have anxiety issues and it truly breaks my heart. To have a child tell you, they are feeling so short of breath whilst being unable to explain why, to not want to participate in sports or hang out with their friends and just want to sit in their rooms and cry, that, well that is truly gut-wrenching. Anxiety works in mysterious ways. It affects everyone differently. Some people cry. Some people have panic attacks. Some people can't talk and practically turn mute. Some people get anxiety diarrhoea which can decide to show up whenever. Anxiety is pretty right? But it's time that people, women, men, old, young, whether they are chronically stressed from work or stupendously stressed from being at home with their kids, dogs, or ferrets, etc. to talk about it. Don't hide it. Don't hide from it and definitely don't suffer from it. I'm saying wear an 'A' on your shirt as a tell-tale signifier because one it would be confusing and two, well, we all know the story of the Scarlet A, or 'Easy A' for the kids in the room. #awkward
Whether it's talking to a friend over a wine, cuddling your dog and divulging everything or simply speaking to a counsellor, you are not alone. You never will be alone. You aren't pathetic. You're strong and being told how to feel when you don't even know how you feel yourself, is a joke and they can eat one. It's 2017, not 1817. People need to be able to talk about their feelings. It doesn't make you any less of a person nor does it diminish you. Nor does it make you any less of yourself. Being anxious, having anxiety, having an attack doesn't define you. It f*cking sucks but you come out on top. You come out as a better person. You don't let it break you. You kick it's arse.
I am pleased, and almost relieved to see how much is being done for mental illness, mental health awareness and overall general health and wellbeing for people. These days people do talk about mental health, however the hardest thing that still remains is to admit it to yourself, and then to share this new-found truth with others. You need to know you are safe and loved and you can talk about things, your life, your stresses and your daily issues that are encountered. It is definitely okay to vent every now and then. It's more than okay to need to let everything out so you don't rage unexpectedly one day out of the blue. Every single person is human and isn't expected to be a robot all of the time.
So right now, it's a Tuesday afternoon and I'm watching Netflix and having a cider. You know why? Because it's been a sh*t week. Yeah it's only Tuesday, I know; but I deserve it. Did I set myself a 'no drinking during the week' ban? Yeah I did. Am I going to listen to it tonight? No way. Because I deserve this god damn drink. And I will definitely deserve the second and third too.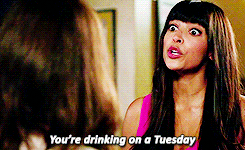 So the big 'A word' hey? Bet you dirty buggers thought I was going to say something else; what, like abstinence…? You filthy animals. 
---
For the love of all things guacamole, If you or anyone you know needs to talk about anything, do it. And do it often. You'll never know how much even a brief conversation can help someone.